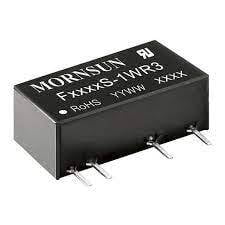 F2405S-1WR3 DC-DC Converter - PO-2645-D
F_S-1WR3 series are specially designed for applications where one isolated (two isolated )voltage is required in a distributed power supply system. They are suitable for: pure digital circuits, low frequency analog circuits, relay-driven circuits and data switching circuits.
Get the high-quality F2405S-1WR3 DC-DC Converter at the best price in India.
F2405S-1WR3 DC-DC Converter
Features:-
Continuous short-circuit protection


No-load input current as low as 8mA


Operating ambient temperature range: -40℃ to +105℃


High efficiency up to 81%


I/O isolation test voltage: 3k VDC



Industry standard pin-out
You may also interested in:-