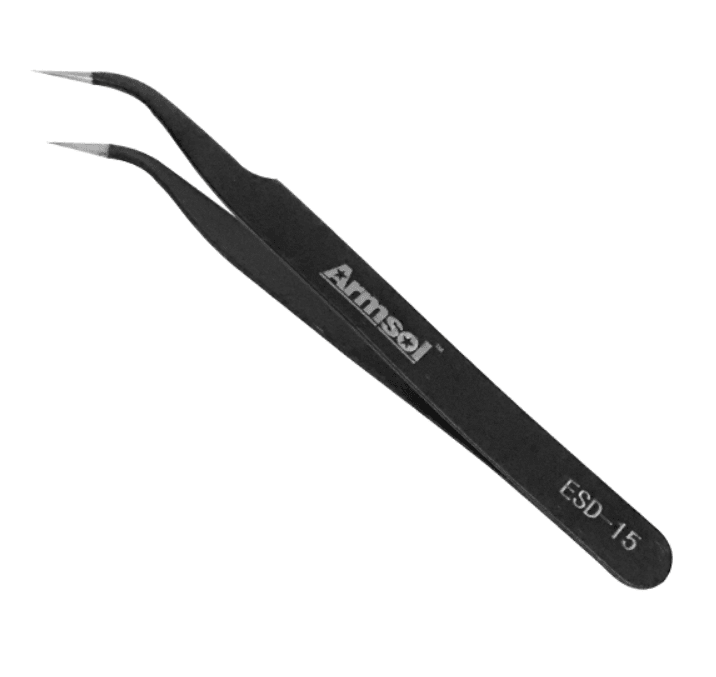 ESD-15 BLACK BEND TWEEZER - TE-3216-D
ESD Tweezers are Popular in electronics assembly and lab applications. These are Ideal for handling sensitive glass or ceramic parts where non-metallic, non-scratching tweezer tips are critical. Armsol Tweezers are Available in many different tip and styles to specifically meet the needs of your application. Straight tip wafer handling tweezers offer durable tip material, high-temperature tolerance, and good chemical compatibility. Perfect for the non-scratch handling of gallium arsenide and silicon wafers as well as sensitive ceramic and glass parts.
Applications ESD Tweezer Bend:-
Electronics, Medical Device, Laser, as well as Microwave Device Assembly

Circuit Die and Electronic Package Assembly

PCB Rework and Repair

Work under a Microscope / Microelectronics

Biotech, Biology, Military, and Aerospace Electronics Assembly

Various Laboratory Applications
Product Features ESD Tweezer:-
Efficient at work

Use friendly design

Durable

Antistatic, Anti-magnetic and anti-acid

Cutting-edge parts of pure manual polishing, fine workmanship

Processed at high temperature and planting antistatic material

Tips after a long time of use are still super straight.