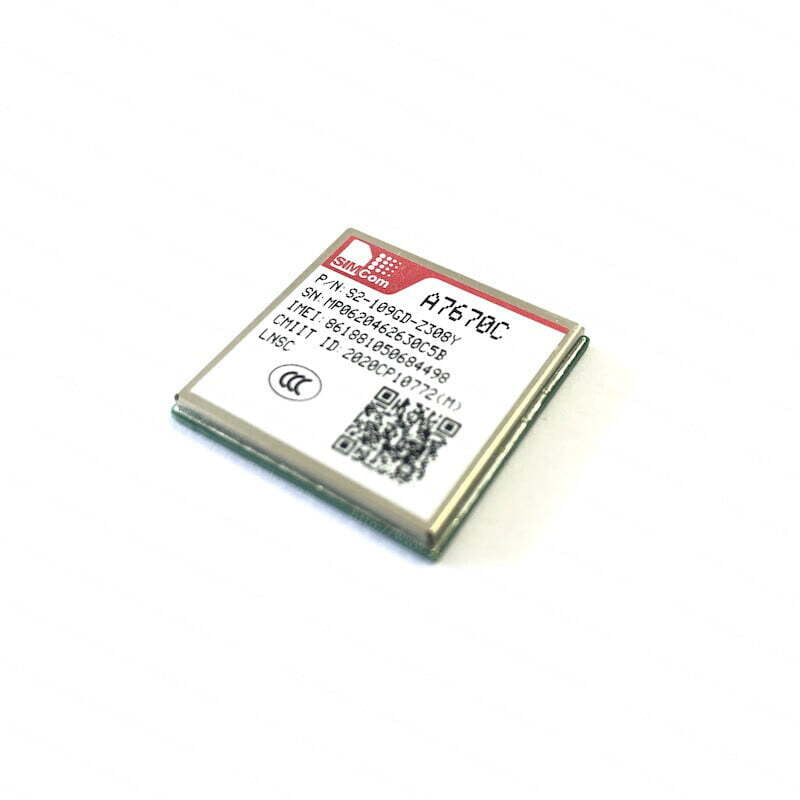 SIMCOM A7670C - WI-2326-D
Visible Manufacture Name
SIMCom Wireless Solutions
Visible Manufacturer's code
A7670C
The A7670 series is the LTE Cat 1 module which supports wireless communication modes of LTE-TDD/LTE-FDD/m GSM/GPRS/EDGE. It supports maximum 10Mbps downlink rate and 5Mbps uplink rate. The A7670 series adopts LGA form factor and is compatible with SIM7000/SIM7070 series(NB/Cat M modules), and SIM800A/SIM800F(2G modules), which enables smooth migration from 2G/NB/Cat M products to LTE Cat 1 products, and greatly facilitates more compatible product design for the customer needs.
Get the high-quality A7670C GSM Module at the best price in India.
The A7670 series supports multiple built-in network protocols, supports drivers for main operation systems (USB driver for Windows, Linux and Android etc.) and software function, AT commands are compatible with SIM7500/SIM7600 series modules. Meanwhile the A7670 series integrates main industrial standard interfaces, with powerful expansibility, including abundant interfaces such as UART, USB, I2C, GPIO, which is suitable for main IOT applications such as telematics, surveillance devices, POS, industrial routers, and remote diagnostics etc.

A7670C Module Features:-

Suitable for LTE and GSM networks

Supports LTE-FDD, LTE-TDD, and GSM, frequency bands.

Control via AT commands.

SIM Card Holder.

Power LED and Network Status

Powerful TCP/IP protocol stack for internet data transfer.

Supports maximum 10Mbps downlink rate and 5Mbps uplink rate.

Abundant software functions: FOTA, LBS, SSL

DC Jack input voltage 7-12V

RS232 DB9 Connector interface

SMA connector for external antenna

1.8V UART header
A7670C GSM Module Key Benefits:-

Small size LTE Cat 1 module

LGA form factor with abundant interfaces

Suitable for LTE and GSM networks

Abundant software functions: FOTA, LBS, SSL

The form factor of A7670 series are compatible with the SIM7000/SIM7070 series