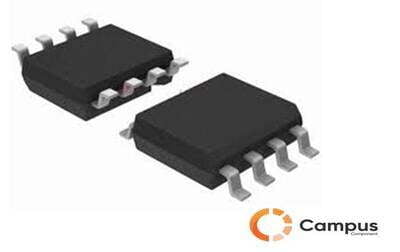 A6303DE5R-33- CMOS LOW DROPOUT REGULATOR (LDO) - IC-1601-
The A6303D series are highly precise, low noise positive voltage LDO regulators manufactured using CMOS processes. The A6303D achieves high ripple rejection and low dropout and consists of a voltage reference, an error amplifier, a current limiter and a phase compensation circuit plus a driver transistor. The A603D is also compatible with low ESR ceramic capacitors which give added output stability.
Get the high-quality A6303DE5R-33- CMOS LOW DROPOUT REGULATOR IC at the best price in India.
This stability can be maintained even during load fluctuations due to the excellent transient response of the series. The current limiter's foldback circuit also operates as a short protect for the output current limiter and the output pin. The EN function enables the output to be turned off, resulting in greatly reduced power consumption.

A6303DE5R Features:-

Maximum Output Current: 300mA

Low Dropout: 140mV@300mA (VOUT=2.8V)

Wide Operating Voltage Ranges: 1.8V to 5.5V

Ultra-low Noise

Ultra-Fast Transient Response

High PSRR: -87dB @ 217Hz -83dB @ 1kHz -54dB @ 1MHz

0.1μA Standby Current When Shutdown

Current Limiting and Short Circuit Current Protection

Thermal Shutdown Protection

Only 1μF Output Capacitor Required for Stability

Fast output discharge

Available in SOT-25, SC70-5 and DFN4(1x1) packages
A6303DE5R Voltage Regulator IC:-

Smart Phones, Mobile Phones, Cordless Phones

Wireless communication equipment

Portable games, Portable AV equipment

Camera and Machine Vision Modules

Battery-Powered Equipment

Laptop, Palmtops, Notebook Computers

Reference Voltage